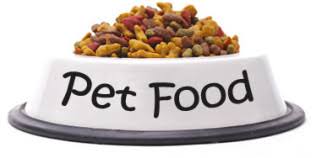 PET FOOD GLOBAL MARKET
Pet food, one of the major segments of pet industry, has grown significantly over the years and currently the pet food industry is growing at a moderate pace.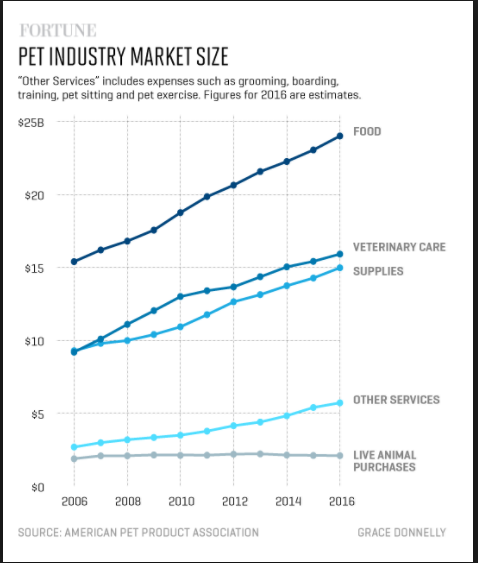 The growing bond between humans and animals and growing pet health concern amongst owners would continue to drive the pet food sales and demand in the pet food industry.   Furthermore, the market is segmented based on food types such as Dry food, Wet food, Treats & Snacks and Others.
The global pet food and pet care products are sold through extensive and wide range of retail channels across the market. It includes hypermarkets, supermarkets, pet stores, petshops, grocery retailers, veterinary clinic and other non grocery retailers and Internet sales include sale through e-commerce websites and company websites. Chewy.com and Amazon are probably the major e-commerce websites in the US, followed by Petfooddirect.com. Mentioned below the market share of each website in the US.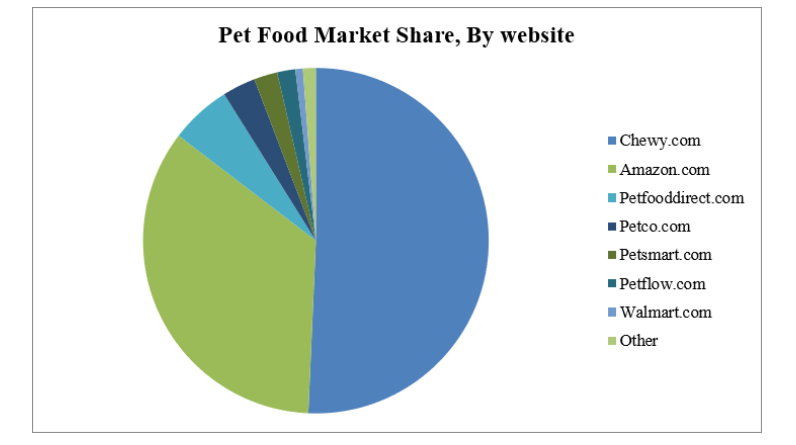 Global sales of all pet care products and services, including pet food, increased 14 percent in last five years (from 2012 to 2017), representing US$13 billion in value growth. That means sales reached US$109 billion last year (2017) and the industry is forecasted to register a CAGR of over 5.03% over the forecast period 2018-2023.
Asia Pacific is now the third largest pet care region, after North America and Western Europe, barely edging out Latin America in fourth place. Eastern Europe, Australasia and Middle East-Africa follow, with much smaller shares.
Specific to pet food, dog food captured the largest share of pet care sales by far in North America, Latin America and, to a lesser extent, Asia Pacific, and was about even with cat food in Western Europe, where cats tend to be more popular than in other parts of the world. Cat food had the largest share in Eastern Europe.
Paula Flores, head of pet care research for Euromonitor International, projected pet food sales in the US to continue to increase between 2 to 3 percent a year through 2022. In terms of overall pet care sales by region, Asia-Pacific will enjoy the highest growth, from about 7.5 percent in 2017 to more than 9 percent in 2022. Sales in Latin America will continue to increase by about 5 percent a year, with Middle East-Africa also seeing 4 to 5 percent growth a year (though from a much smaller base).
Eastern Europe's growth has slowed; it was about 3.5 percent in 2017, Euromonitor Interntional  data showed, and may top 4 percent by 2022. Growth in North America will remain at about 2 percent, with Western Europe and Australasia pet care sales bringing up the rear at 1.5 percent and 1 percent, respectively.
Sources : datamintelligence.com – slideshare.net – petfoodindustry.com – researchcosmos.com – american pet product association
DISCLAIMER
This publication must not be regarded as offering a complete explanation of the investment matters that are contained within this publication.
Authors are not responsible for the results of any actions which are undertaken on the basis of the information which are contained within this publication, not for any error in, or omission from, this publication.
The authors expressly disclaim all and any liability and responsability to any person, entity or corporation who acts or fails to act as a consequence of any reliance upon the whole or any part of the contents of this publication.
Accordingly no person, entity or corporation should act or rely upon any matter or information as contained or implied within this publication without first obtaining advice from an appropriately qualified professional person or firm of advisors, and ensuring that such advice specifically relates to their particular circumstances.