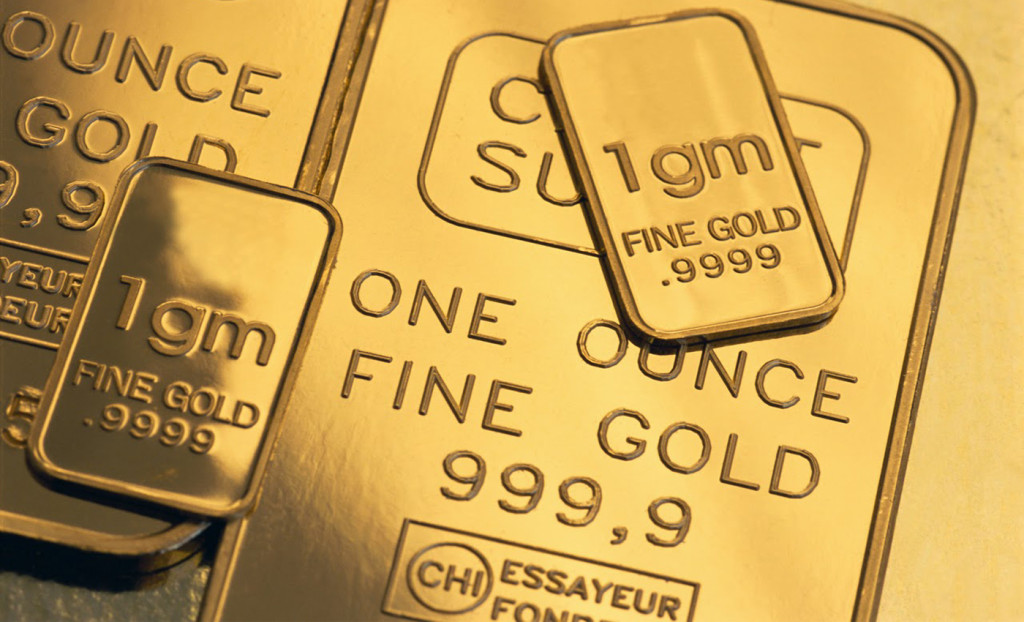 ORO
La categoria dei "beni rifugio" comprende tutti gli investimenti (beni materiali) che conservano il proprio valore nel tempo, nonostante i periodi di incertezza o di elevata inflazione.
L'oro è da sempre il bene rifugio per eccellenza per la sua stabilità e la sua universalità: in ogni epoca è stato considerato un'assicurazione sul patrimonio e per lungo tempo è stato il riferimento delle monete nazionali.
Esistono tre tipologie di oro in quanto si potrà procedere ad investire in lingotti di oro o di monete d'oro ma vi sono anche certificati rappresentativi di oro o certificati di investimenti in oro ossia gli ETC  (Exchange Traded Commodity).
Gli esperti evidenziano come l'investimento in oro si fa in genere in quei momenti di eccessiva turbolenza sui mercati o sulla moneta, o quando si temono impennate dell'inflazione , ossia una diminuzione del potere di acquisto di una moneta. Infatti l'oro ha sostanzialmente sempre mantenuto il proprio valore rispetto al tasso di inflazione negli ultimi duecento anni.
Di seguito il grafico  mostra  le quotazioni dell'oro negli ultimi venti anni:

Source : bullionvault.it
Si è osservato, inoltre, che la quotazione dell'oro non è direttamente influenzata dalle politiche economiche di ogni singolo Paese. Anche per queste ragioni , un quarto di tutto l'oro esistente è detenuto dai governi, banche centrali o altre istituzioni ufficiali sotto forma di riserve monetarie internazionali.
Il grafico sottostante rappresenta la quotazione (espressa in USD) dell'oro il giorno 25 ottobre 2017:

Source : bullionvault.com
Un esempio di mercato del commercio di metalli preziosi ,quali oro, argento, rame e alluminio è il COMEX  – Commodities Exchange – che fa parte del New York Mercantile Exchange. Il suo obiettivo principale è il trading dei futures in metalli preziosi. L'oro COMEX è uno strumento (opzione) per scambiare i prezzi dell'oro in una data futura.
Il grafico seguente ne è un esempio: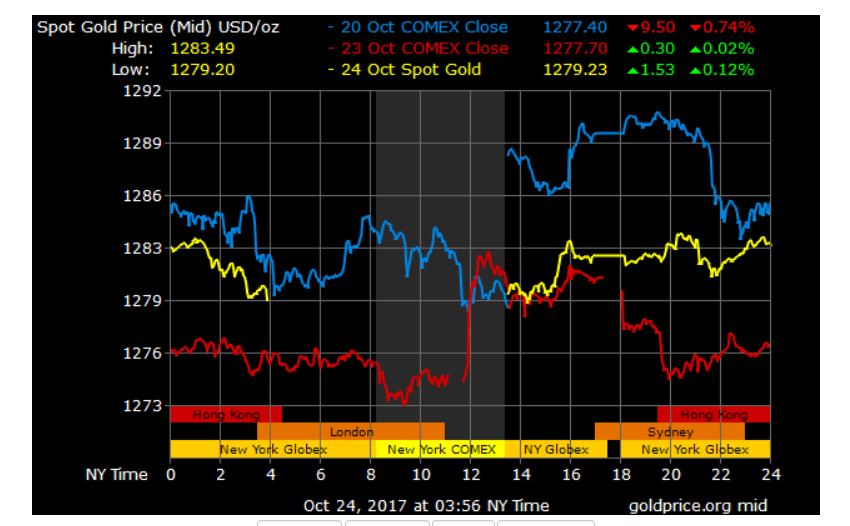 Source : goldprice.org
Sources : borsainside.com – bullionvault.it – sterlinaoro.it – orobenerifugio.com – tassefisco.com – goldprice.rog
DISCLAIMER
This publication must not be regarded as offering a complete explanation of the investment matters that are contained within this publication.
Authors are not responsible for the results of any actions which are undertaken on the basis of the information which are contained within this publication, not for any error in, or omission from, this publication.
The authors expressly disclaim all and any liability and responsability to any person, entity or corporation who acts or fails to act as a consequence of any reliance upon the whole or any part of the contents of this publication.
Accordingly no person, entity or corporation should act or rely upon any matter or information as contained or implied within this publication without first obtaining advice from an appropriately qualified professional person or firm of advisors, and ensuring that such advice specifically relates to their particular circumstances.