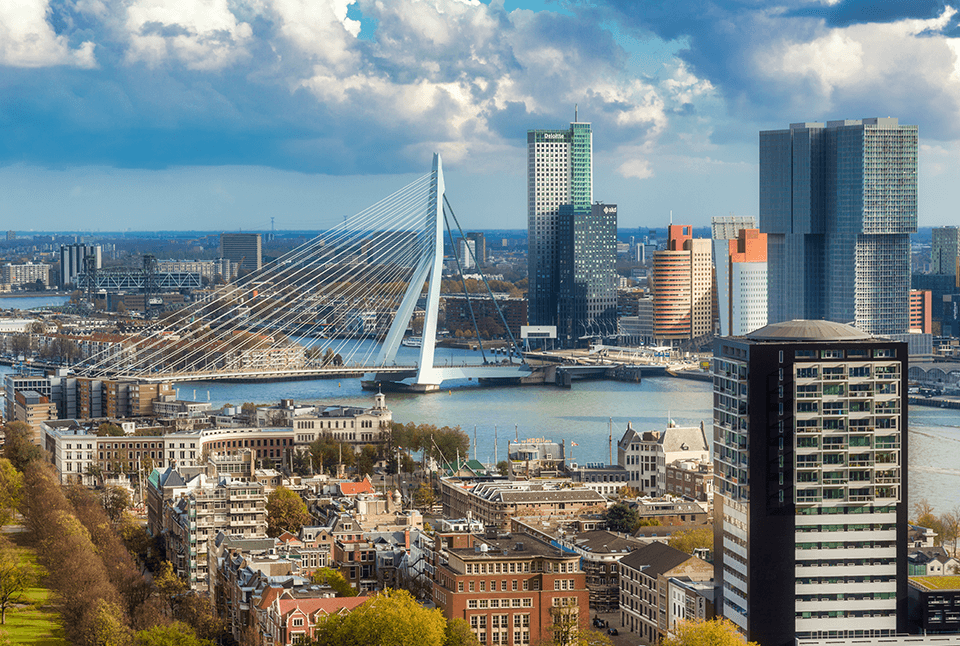 ROTTERDAM, THE DUTCH CITY IN CONSTANT GROWTH
Rotterdam is a maritime capital because its strategic location near the North Sea, Atlantic and major European rivers, has led to the development of a world-class cluster of maritime expertise, backed up by centuries of experience in shipping and trade. The Rotterdam of today is the centre of maritime innovation attracting companies and talent from all over the world.
The port of Rotterdam is the economic powerhouse at the heart of this maritime ecosystem. The huge port infrastructure supports a wider maritime cluster that is the most complete in Europe, employing 384,500 people and accounting for 6.2% of Dutch GDP (€45.6 billion).
This strong maritime community has an open attitude towards innovation, which makes Rotterdam special in an otherwise traditional sector and companies of all sizes see Rotterdam as a great place to develop, test and adopt innovations that can renew their business.
Source : Leading Maritime Capitals of the World 2019
Rotterdam is third maritime capital of the world, that is what it says  Maritime Capitals report for 2019 which maritime metropolises provide the best support for companies in shipping and related services. Criteria include soft and hard infrastructure and access to world-class talent and services – all key components that maritime businesses need to thrive in their chosen locations.

Source : Leading Maritime Capitals of the World 2019
Singapore was able to retain its lead in three of the five pillars of the ranking: Shipping, Ports and Logistics as well as Attractiveness and Competitiveness. In the two remaining pillars of the ranking ( Leading Maritime Capitals of the World 2019 ),  London is number one in Maritime Finance & Law, while Oslo is number one in Maritime Technology. On the overall ranking, Hamburg remains in the number two spot, Rotterdam and Hong Kong show the biggest improvement, climbing to third and fourth respectively, with London rounding out the top five, and Shanghai at number six.
As home to the largest port in Europe, Rotterdam has been a culminating point for maritime and trade industries for decades. More and more, however, companies focused on software, digital platforms, algorithms, and similar technologies are also making a name for themselves; a similar phenomenon has taken place in the hubs that connect and support this ecosystem.
The city is now home to 500+ tech startups, nearly two-thirds as many as Amsterdam. With access to talent from both the technology sector (TU Delft – Faculty of Technology, Policy and Management) and the business sector (Erasmus University), all ingredients for founding and scaling successful startups are locally brewed.
Sources  :  rotterdampartners.nl  –  rotterdammaritimeservices.com  –  rotterdaminnovationcity.com  –  wetechrotterdam.com